Mon. August 23, 2010
Categories:
antiquities
,
archaeology
,
art
The Guardian is reporting that Hellenistic-style wall paintings at Petra have been cleaned, revealing colorful artwork from the 1st century CE that is said to rival that of Herculaneum.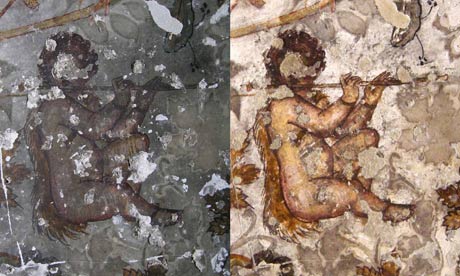 At the instigation of the Petra National Trust (PNT), conservation experts Stephen Rickerby and Lisa Shekede restored the paintings to life. The work took three years, and was completed only last week. "The paintings were a real mess," Rickerby said.

He described what has emerged from the blackened layers as "really exceptional and staggeringly beautiful, with an artistic and technical quality that's quite unlike anything else".